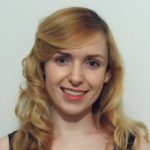 UX/UI Designer
Anita Mernagh
My name is Anita Mernagh. I have 7 years industry experience as a Visual and User Experience designer. Projects I have worked on range from packaging, branding, point-of-sale, & out-door media campaigns, to the research & design of enterprise software for communication & collaboration on web & mobile.
In my current role as Design Lead for IBM Collaboration Solutions, I get to lead a talented cross-discipline team, both locally & remote, steering the research & design of industry leading software solutions. Together we apply IBM Design Thinking practices during agile sprints, analysing feedback from sponsor users & making iterations & improvements as we go.
At the moment a big part of my job is figuring out the complex implications of integrating different software applications. I consider how this will impact the overall design strategy of the project and work closely with our team of developers to align on a feasible, yet ambitious, vision for our solutions and communicate our decisions back up to senior management through playbacks & presentations.
Outside of my day job, I enjoy keeping up to date with what's happening in the wider design community. I'm really interested to help with the 'Mind Over Matter' campaign as I'm a big advocate for mindfulness and people looking after their mental health. It would be wonderful to use my creative skills to support the important work that AWARE do to help people with depression and try to break down the associated stigma & promote positive mental health.
---
Venue: Dublin - Huckletree